Curator's Talk: Kristen Gaylord, Amon Carter Museum of American Art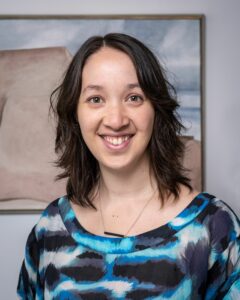 Join the juror of 39th Center Annual, Kristen Gaylord, Ph.D., Associate Curator of Photographs at the Amon Carter Museum of American Art in Fort Worth, TX, to hear about her current and upcoming curatorial projects. Gaylord has been instrumental in critically examining and reshaping the notion of "American art" explicit in the Carter's name and mission.
Kristen Gaylord is Associate Curator of Photographs at the Amon Carter Museum of American Art, where her work furthers scholarship, preservation, and presentation of the Museum's extensive photographic holdings. Gaylord spearheaded the acquisition of the museum's first photographs by Black and Latina women and has organized exhibitions including Stephanie Syjuco: Double Vision and Black Every Day: Photographs from the Carter Collection, both on view now, as well as Thomas Moran's Mount Superior (2021), Looking In: Photography from the Outside (2019), and Set in Motion: Camille Utterback and Art that Moves (2019). She also served as the curator for the Carter's presentation of the nationally touring exhibition An-My Lê: On Contested Terrain (2021).
Before joining the Carter in 2018, Gaylord served as the Beaumont & Nancy Newhall Curatorial Fellow in the Department of Photography at the Museum of Modern Art (MoMA), New York, for three years, having previously worked there as a research assistant and a curatorial intern. Concurrently, she was also the inaugural curator of the Duke House Exhibition Series at New York University (NYU). In addition to positions at the Museum of the City of New York and the Willem de Kooning Foundation, Gaylord has taught at Ramapo College of New Jersey, Kingsborough Community College, and NYU. She has written and lectured widely, and holds PhD, MPhil, and MA degrees in art history and archeology from the Institute of Fine Arts (IFA), NYU and a BA from Westmont College.