Houston Wing Museum and Hangar Tour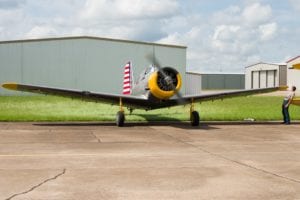 Members:  Join us to photograph historical airplanes from World War II at the Houston Wing! This event will be led by photographer, author, and educator Lou Benjamin, who will guide you to discover captivating angles and optimal exposure settings for the hangar's lighting conditions.
The Houston Wing's hangar houses six Commemorative Air Force (CAF) aircraft, and its museum covers American, German, and Japanese military and home front life during the War. You are invited to spend time in the hangar and museum during your visit. The museum exhibits are labeled and there are knowledgeable docents available to expand on the displays.
Visit Houston Wing for more information.