Words and Pictures: In Conversation: Elizabeth Bick and Dorota Biczel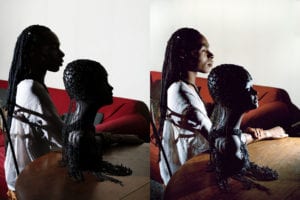 In Conversation: Elizabeth Bick (2020 HCP Fellow) and Dorota Biczel (ED and Curator, HCP)
How can photography be intermediatic? What even are the intermedia? How does an intermediatic approach alter customary expectations of distance and intimacy in photography? Artist Elizabeth Bick and HCP's Executive Director and Curator, Dorota Biczel, discuss Bick's practice informed by her training in modern dance. At the core of Bick's work are relationships between architecture, urban fabric, movement, and image, and what it ultimately means to be a body in space. 
Archived conversation will be available for viewing on HCP's Vimeo page. 
Register Here
About Elizabeth Bick's Movement Studies
After a childhood dedicated to dance, Elizabeth Bick found a choreographic voice through photography. Movement Studies is a three-volume work that portrays a gridded  anonymous street, a chosen corner, and finally, one individual. Movement Study I is a distant, peering typology study of patterned movement in occupied transient urban landscapes. Through this scavenger hunt, Movement Study II, a temporary construction facade, and a populated pedestrian corner was discovered and photographed for years. Movement Study III is dedicated to B Hawk, whom, by chance, Bick photographed at the location of Movement Study II, and then exclusively photographed them as they underwent gender transition. The work operates vertically and cyclically, narrowing a perception of the urban experience. Elizabeth is the recipient of the 2020 HCP Fellowship.