Houston Center for Photography: Fostering Creativity
Nico Daniels
It's not every day that a 16-year-old asks to meet with a gallery curator for a portfolio review, unless they are Nico Daniels, The Woodlands, Texas teen photographer who did exactly that with Houston Center for Photography. Nico met with Executive Director and Curator Ashlyn Davis to review his portfolio earlier this year, during which he impressed her with his creative images and ambitious drive. Davis shared about the encounter with then, Director of Education Jan Rattia, who after seeing Nico's work and recognizing his ability said: "Call him now!" Davis and Rattia had been discussing the development of an institutional video that would speak to a younger audience. Nico Daniels was the answer. For the following two weeks, Daniels familiarized himself with HCP and its programming and created this vibrant and dynamic video with the help of his friends. Thank you, Nico, for sharing your talent with us.
Daniels was awarded an all-access pass to HCP's new state-of-the-art media lab and will be enrolling in courses at HCP Education. The future is bright for this young photographer, and we are happy to be part of it.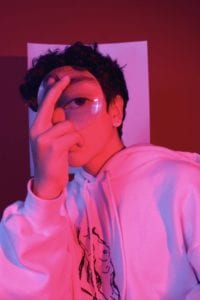 You can read more about Nico in this i-D article, which was published last year.