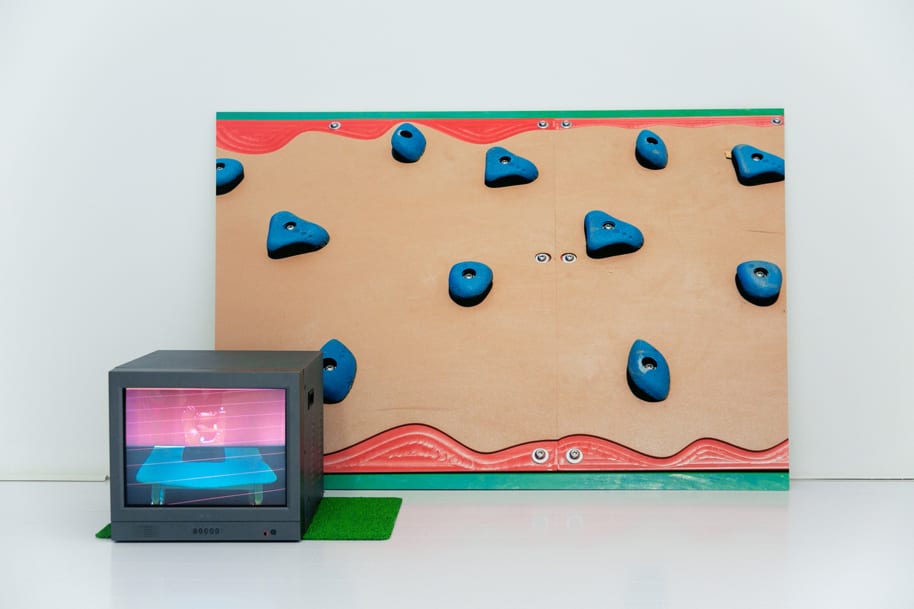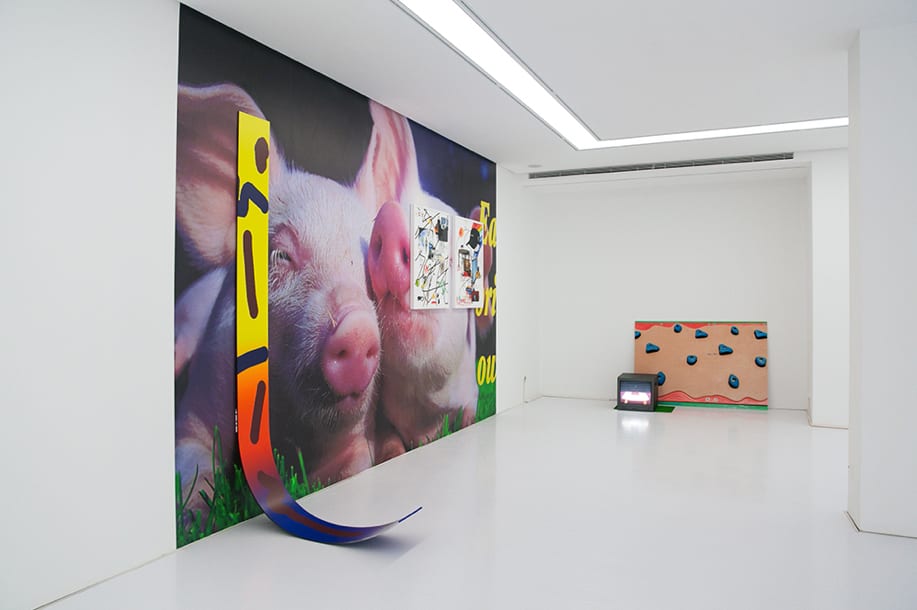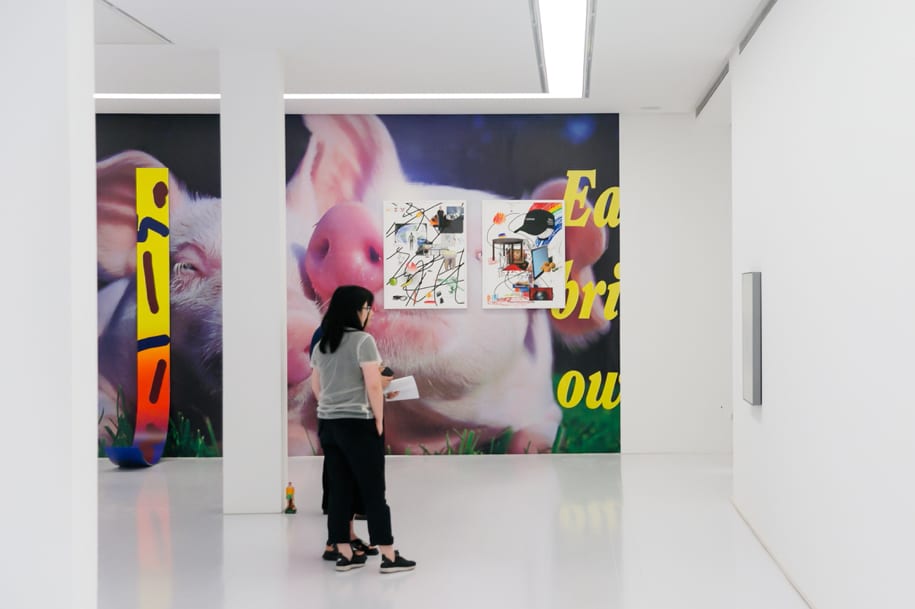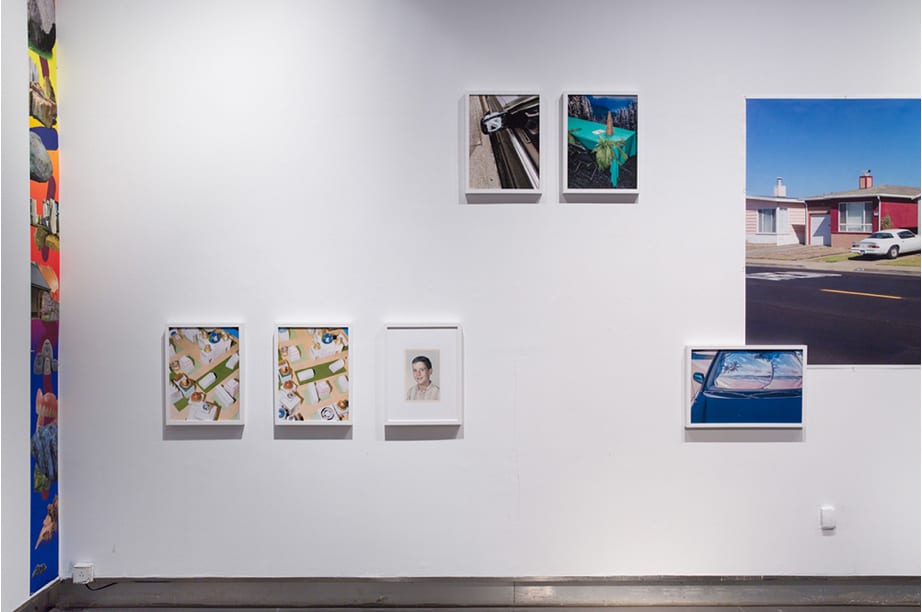 HCP Fellowship Award Recipient: Zhao Qian
A Field Guide
The long-haul airplane flight is Zhao Qian's metaphor for the associative, introspective, disorienting images in "A Field Guide."  When one is in an extended state of limbo, one casts about for visual stimulation, whether out the window or among the corporate entertainments offered by the airline. The spatial displacement mapped by Zhao's San Francisco-to-Shanghai flight is also a cultural one that he experiences as a resident of both cities. The specificity of national identity is elided in non-sites such as airports, where all design decisions—from wayfinding signage to furniture to advertisements—are driven by maximum legibility and functionality. Within those leveling conditions, Zhao's observational sensibility has the vibrancy and idiosyncrasy of a lucid dream.  Scale shifts, odd juxtapositions, aggressive colors, and video sequences all contribute to an immersive effect that translates the montage strategies of surrealism and postmodernism into our fully digital present. Confronting the flattening tendencies of screen-culture—in which complex real-world objects, places, and emotions are dispersed into arrays of pixels—Zhao responds by mapping this flatness onto the dimensionality of a gallery or exhibition space. His open-ended Field Guide has infinite configurations. In that sense, it is not definitive in the traditional manner of the "field guide" format, which is intended to help the reader to identify flora, fauna, or other things in their natural environment. Instead, Zhao Qian's work makes us wonder if contemporary image culture is now in fact our natural environment. In that new reality, the artist's roving attention finds moments of individual meaning amidst the esperanto of global capitalism.
–Juror, Britt Salvesen
---
About the Artist
Zhao Qian is a visual artist living in San Francisco and China. His project has exhibited in 001 Gallery (Rome, Italy), Reminders Photography Stronghold Gallery (Tokyo, Japan) and Lianzhou Photo Festival(Lianzhou, China). His work has appeared in group exhibitions in Rathfarnham Castle (Dublin, Ireland), French Pavilion (Zagreb, Croatia), Ogden Museum of Southern Art (New Orleans, USA), Museum of Contemporary Art of Rome (Rome, Italy), Zhejiang Art Museum(Hangzhou,China), Today Art Museum (Beijing, China), Dalian Art Museum (Dalian, China) and Kala Art Institute (Berkeley, USA). Zhao Qian has also shown in Unseen Photo Fair, Singapore International Photo Festival, Athens Photo Festival, Copenhagen Photo Festival and FOTOFESTIWAL. Zhao Qian has received fellowships for residencies such as HANGAR/Artist Research Center (2018), Homesession(2018), The Cow House Studio, Vermont Studio Center and Kala Art Institute. In 2017 his first monograph "Offcut, the edge" got published by Jiazazhi Press.
About the Juror
Britt Salvesen joined the Los Angeles County Museum of Art (LACMA) in 2009 as curator and head of the Wallis Annenberg Photography Department and the Prints and Drawings Department. Previously, she was director and chief curator at the Center for Creative Photography (CCP), at the University of Arizona. Salvesen received her Master's Degree from the Courtauld Institute of Art, London, and her PhD from the University of Chicago. Her exhibitions at LACMA include New Topographics (2009); Catherine Opie: Figure and Landscape (2010); Robert Mapplethorpe: XYZ (2012); Under the Mexican Sky: Gabriel Figueroa—Art and Film (2013); See the Light: Photography, Perception, Cognition (2013); Haunted Screens: German Cinema in the 1920s (2014); Robert Mapplethorpe: The Perfect Medium (2016), winner, with Paul Martineau, of a Lucie Award and a Global Fine Art Award; and Guillermo del Toro: At Home with Monsters (2016). In 2016, Salvesen was named one of the year's most influential curators by Artsy and received an award for curator of the year from the Los Angeles Art Show. She is also a co-organizer of the UCLA/LACMA annual conference "Art, Neuroscience, and Psychiatry." Her latest exhibition and catalogue is 3D: Double Vision, on view at LACMA from July 15, 2018, through March 31, 2019.
ON VIEW
May 10, 2019 – July 7, 2019
OPENING RECEPTION
Friday, May 10, 5:30-8:00pm
Artist talks begin at 6:00pm