In Camera Lucida, Roland Barthes opted not to show us his mother's Winter Garden Photograph, because he knew that it would not resonate with us in the same way it did with him, the child who knew her intimately. Yet, his relationship with the Winter Garden Photograph is one we all understand, and many have had: that looking at a picture of our parents from before our birth, we still recognize them, and, to some extent, ourselves. When photographers show us their most intimate relationships, we read and project onto the images. We compare them to our relationships, assessing the similarities and differences. This is the vulnerability laid bare by photographers who turn the camera on their families, and it was the impulse from which Barthes was protecting the Winter Garden Photograph.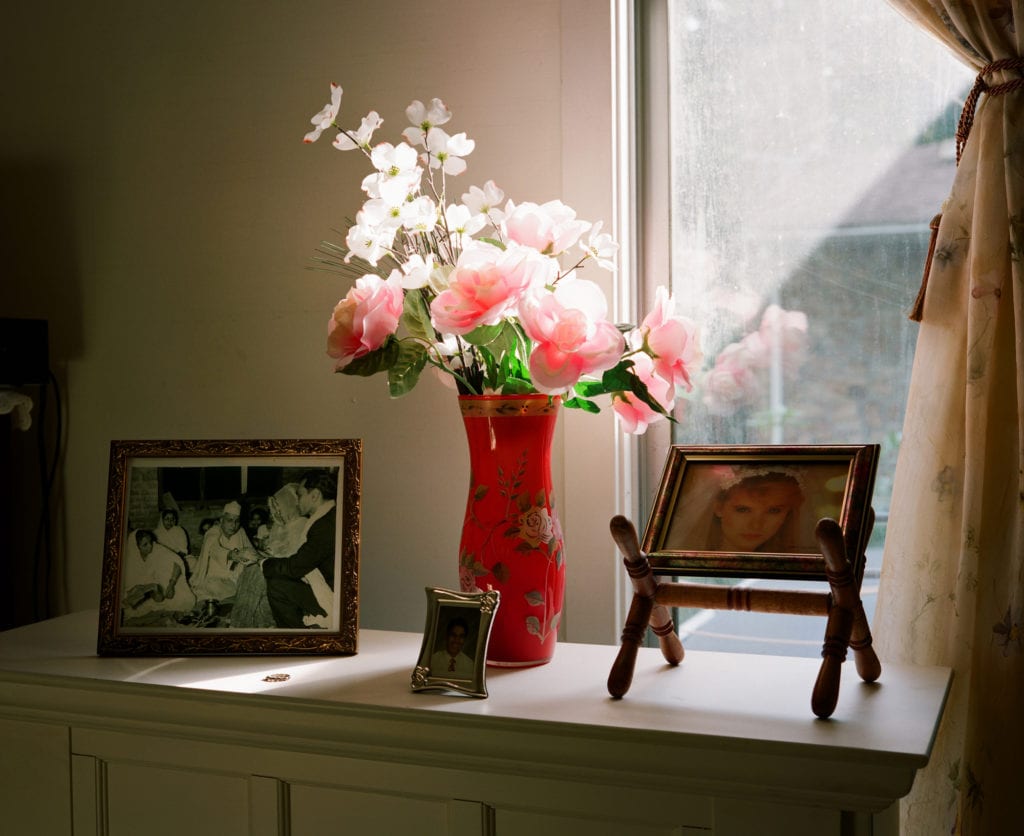 In See You at Home, Vikesh Kapoor photographs his parents in the house where they raised him, even though he and his sister have moved far away. Some of his photographs show the sorts of accumulations that are all too common in American households. Studying the images, I find myself projecting issues I have experienced with my own parents, even asking Kapoor about his parents' relationship with their house because my parents are readying the house I grew up in for sale. In his photographs, his parents engage with the trappings of a life well-lived, and by the very Americanness of this subject, Kapoor amplifies a point that is central to his work: this was not the life they were born into. Indeed, Kapoor's parents are Indian immigrants who have been living in rural Pennsylvania since 1973.
Kapoor nods to their migration by interspersing his work with earlier photographs of his parents. One photograph made before his birth, Before Immigration, shows his parents as a young, glamorous couple in sunglasses and suits, sightseeing in Europe, clearly enjoying a life of new experiences. Kapoor's photographs are not without adventure; in Visiting Me, Mount Hood looms behind his parents; in another, On an Island, they're in a state of repose on a beach. These are glimpses of "the good life," yet they lack the same carefree feeling of the more youthful portraits. However, most images are centered in Kapoor's Pennsylvania hometown, particularly in or near his parents' house.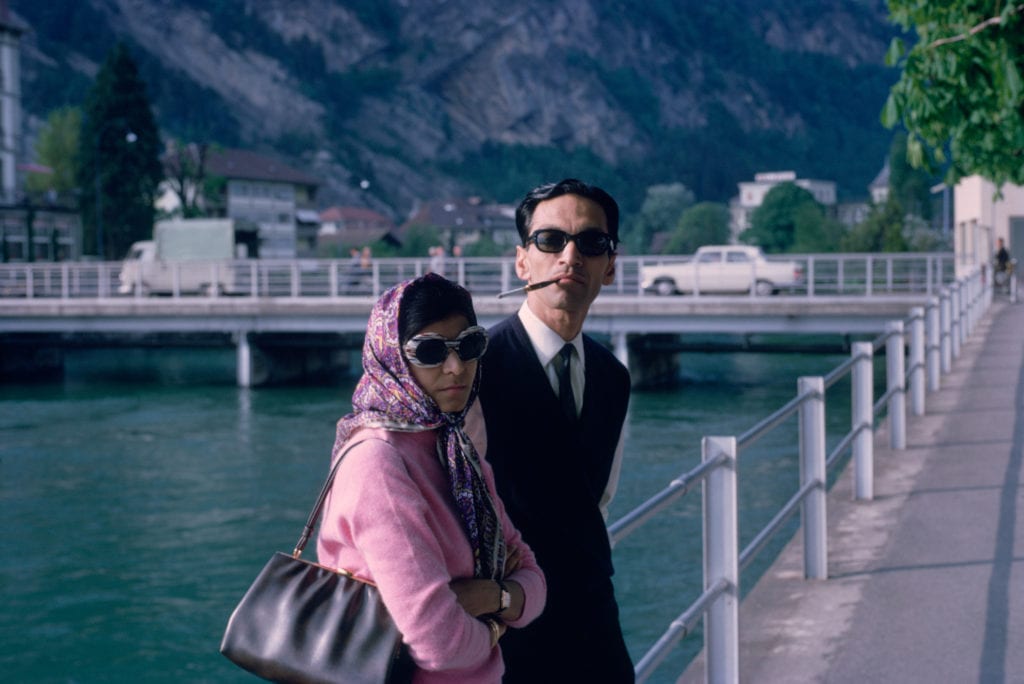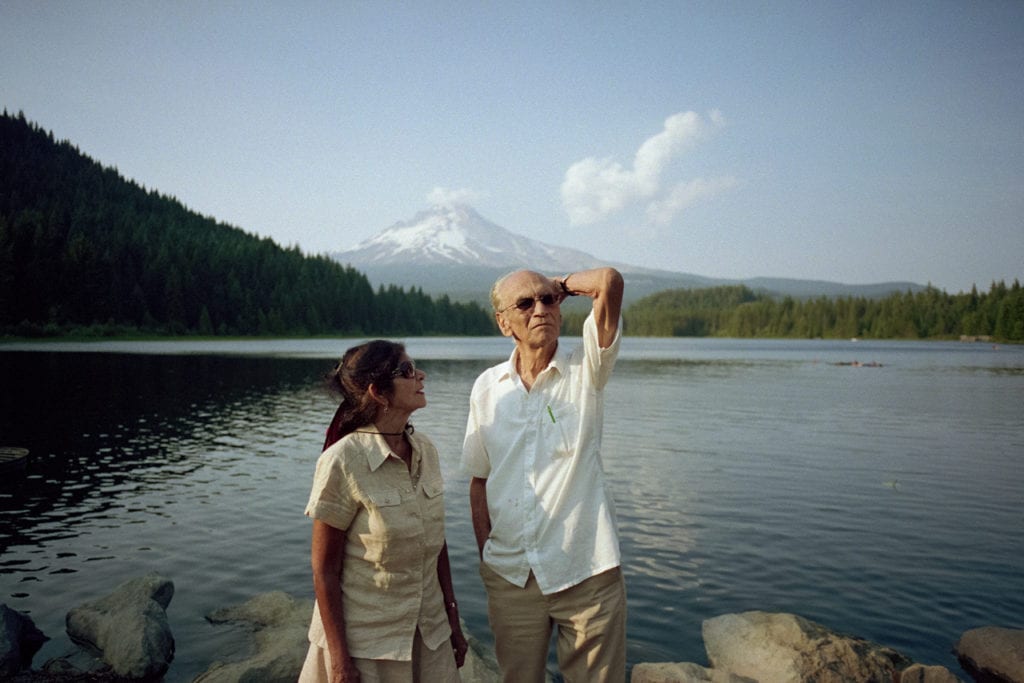 In the United States, immigrant homeownership has not always been a given. In my state, California, the California Alien Land Law of 1913 prevented homeownership of non-citizen "aliens," particularly to those of Asian descent. (In California, these laws persisted until around 1950.) This is a chilling reminder that the anti-immigrant sentiment that pervades politics in recent years is nothing new. Politicians and the news cycle focus exclusively on new or prospective immigrants, not those like the Kapoors, who have now lived in the United States longer than their native India. Representing and humanizing this aspect of the immigrant experience is important to Kapoor, who sees his parents as having a foot in each world, raised in a collectivist nation but acclimated to life in an individualistic one. Kapoor emphasizes the sense of isolation in their rural Pennsylvania home with images such as his father, in a robe and winter hat, standing in the empty family swimming pool (Our Childhood Swimming Pool), or his mother, wearing a light jacket, seated in a booth at a nearly empty restaurant (At Fox's Restaurant). His father dons the same robe in another photograph, where he is reclined on the couch and watching television. The wood-paneled walls behind him are adorned with family photographs, including one of those big frames with a multi-window mat that holds a collage of about twenty pictures. In another image, Kapoor's father studies a mantel packed with framed photographs. This could be virtually any long lived-in family home if one simply swapped out the photographs for their own kinfolk. The ordinariness here is significant. It reminds us that immigration issues are a tempest in a teapot. Most people born in the US are born of immigrants or families that immigrated at some point in their past. Kapoor's parents represent a plot-point on this path, not the new immigrants of the news cycle, but ones comfortably ensconced in their Americanized ways.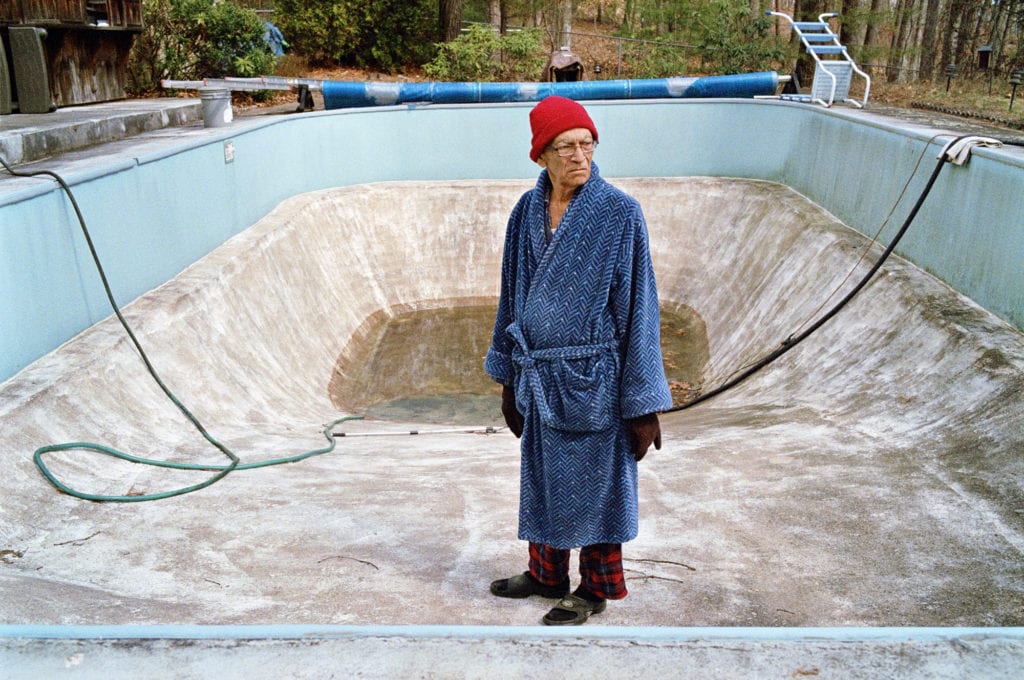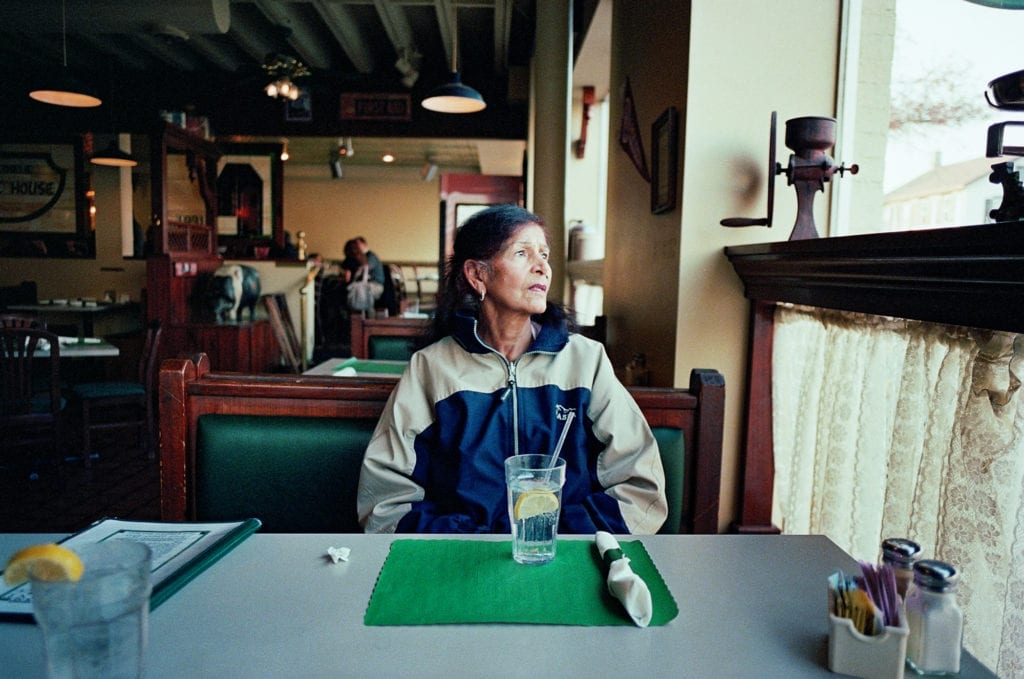 This, of course, is an oversimplification. Kapoor notes that when his family arrived in rural Pennsylvania, there was only one other family of Asian descent. In a region lacking in diversity, their skin tone marked an otherness that is so often fraught with countless microaggressions. I am projecting again and casting assumptions, but understand solemnly (to whatever extent that a white person can) that it is harder to make a life in this country when you are not white. I wonder as I view these photographs, what their experience must have been like, both for them and their children. In My Father's Den, Kapoor documents items stored against a wood-paneled wall inside the house. An American flag rests under a boombox. This draping is not irreverent, but instead carries a nonchalance that feels distinctly American. 
Kapoor's photographs call to mind Jhumpa Lahiri's short story, "The Third and Final Continent." In it, the narrator describes his experiences in attending school in London and his early days as a working professional in Boston, awaiting his new wife's arrival while the immigration process from India was delayed. The story jump-cuts past the workaday years of childrearing and the labor of striving for and achieving the American dream, concluding with him marveling at the thirty years he has spent in the States: 
I know that my achievement is quite ordinary. I am not the only man to seek his fortune far from home, and certainly not the first. Still, there are times I am bewildered by each mile I have traveled, each meal I have eaten, each person I have known, each room in which I have slept. As ordinary as it all appears, there are times when it is beyond my imagination.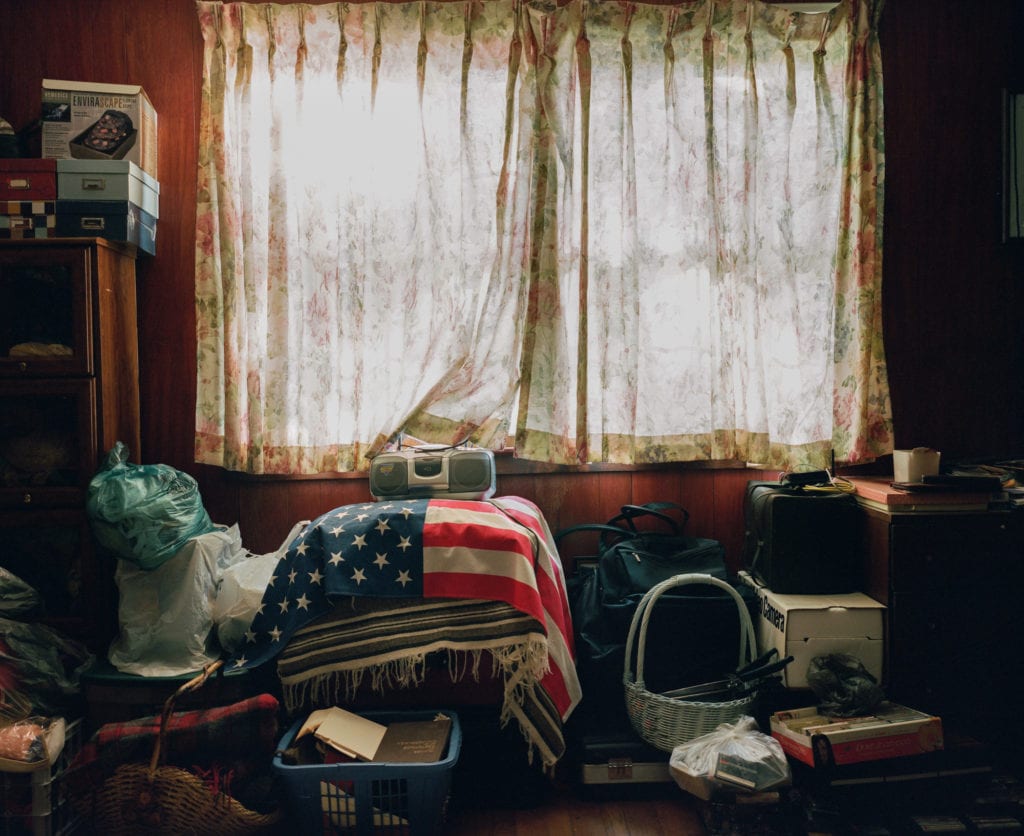 The ordinary and extraordinary meld in Kapoor's work, reflecting this moment. These are poignant images that are deeply personal, but they speak to many broader points, especially immigration, Americanness, accumulation, and old age. 
Photography's most powerful act is to show us something that we have not seen before and to allow us to examine what we did not see firsthand. See You at Home does this in profound ways by raising questions about how older immigrants look, act, and live, in a land that they've called home longer than anyplace else. It contributes to the current sociopolitical dialogues by reminding us that there is plenty of ordinariness in the extraordinary life decision to migrate. In See You at Home, Kapoor shares the isolation and quiet loneliness that seems to accompany this particular pursuit of the American Dream.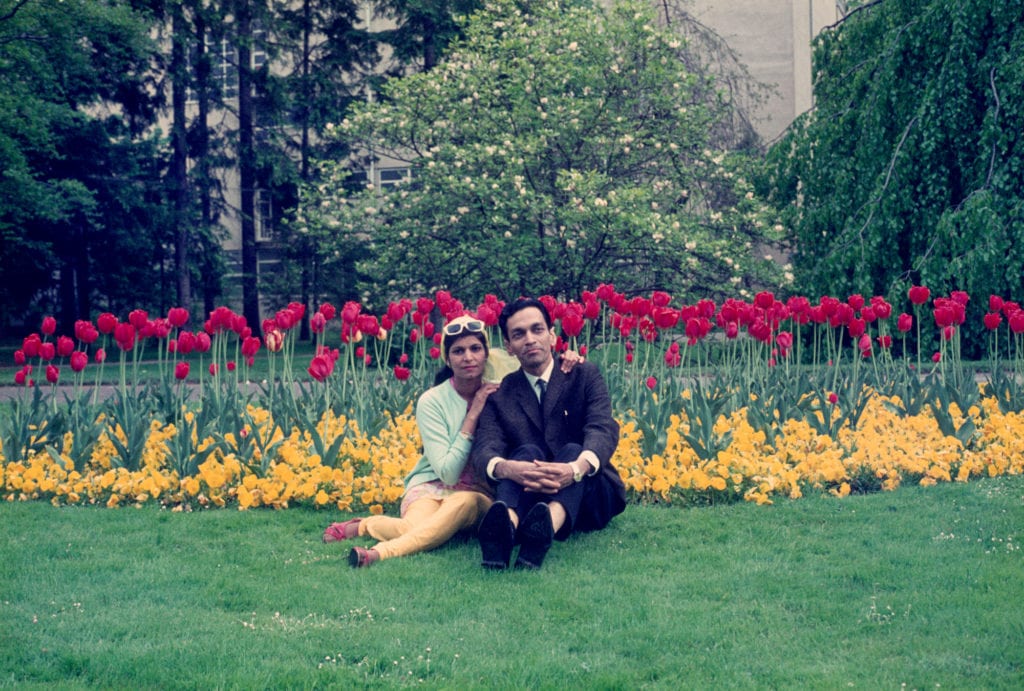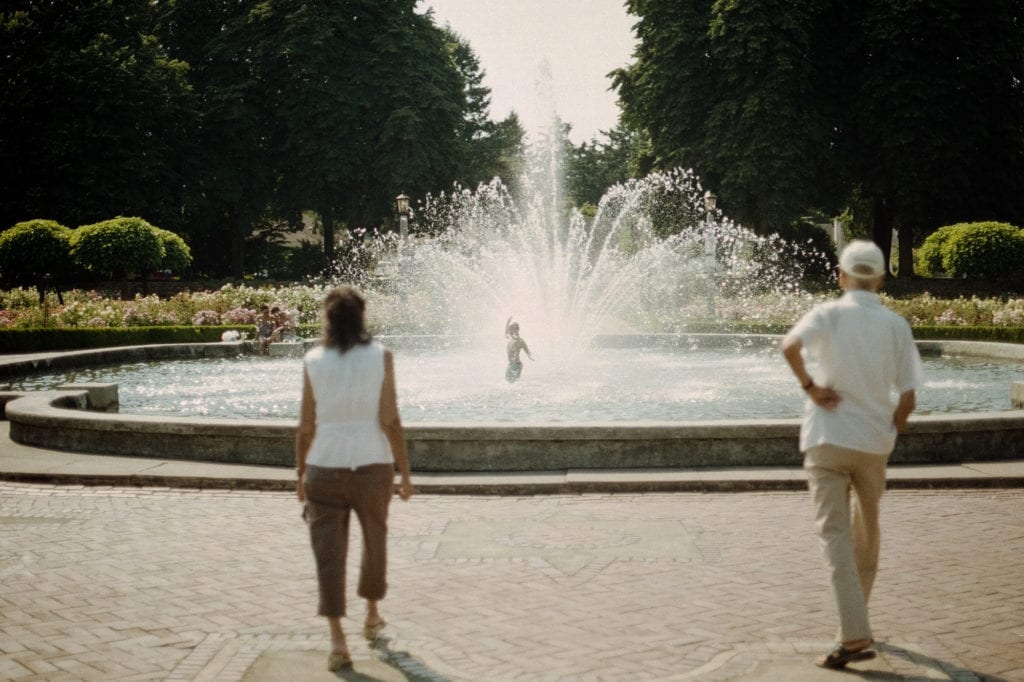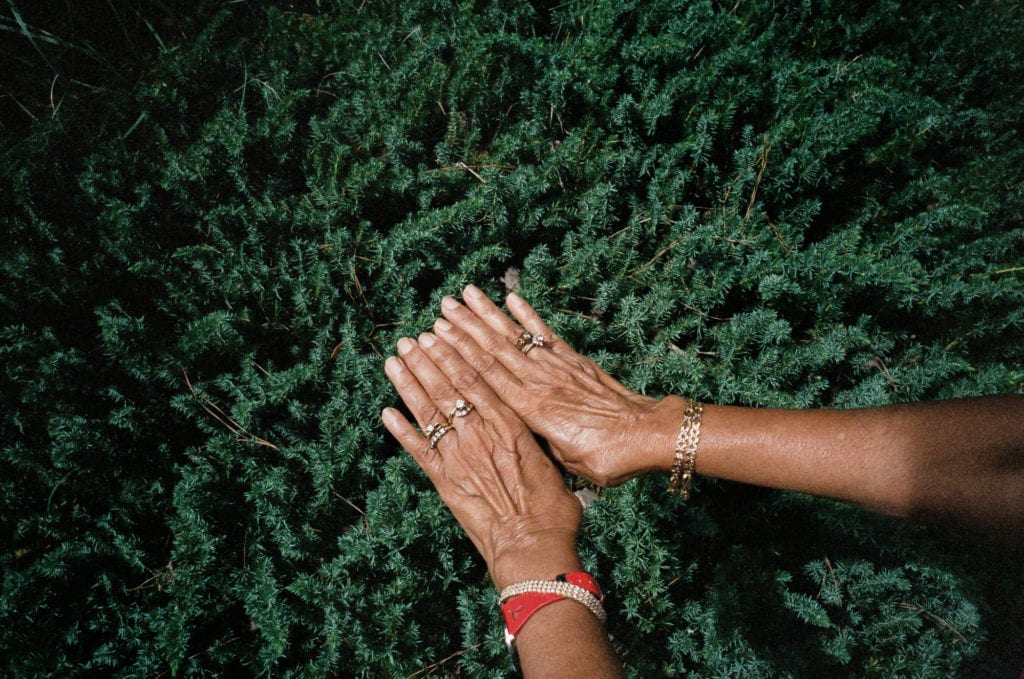 About the artist
Vikesh Kapoor is a multidisciplinary artist from Sunset Pines, Pennsylvania, whose work examines race, class and identity as a first-generation American. His ongoing photo-based narrative, See You At Home, has received support from curators at the National Portrait Gallery, San Francisco Museum of Modern Art, Los Angeles County Museum of Art, the Nelson-Atkins Museum of Art and the Andy Warhol Museum.

Kapoor received The Hopper Prize in 2020, the PhotoNola Review Grand Prize in 2019, a Lensculture Art Photography Juror's Pick Award in 2018, and CENTER's Project Development Grant in 2018. In 2020, he received 2nd place for the PHmuseum Mobile Photography Prize. He was also a finalist for the Documentary Essay Prize from the Center for Documentary Studies at Duke University and a finalist for the Portrait Award presented by Head On Photo Festival. In 2019, Kapoor was a semifinalist for the Outwin Boochever Award at National Portrait Gallery and shortlisted for the Grand Prix Images Vevey Award.

His photographs have exhibited at Photo Vogue Festival, Aperture Foundation, Houston Center for Photography, and SFCamerawork, among other venues. He was recently an artist-in-residence at Center of Photography at Woodstock in New York and will continue work on See You At Home at Latitude Chicago in 2021.